Staff – The Cape Breton Post
Published on Aug 13, 2016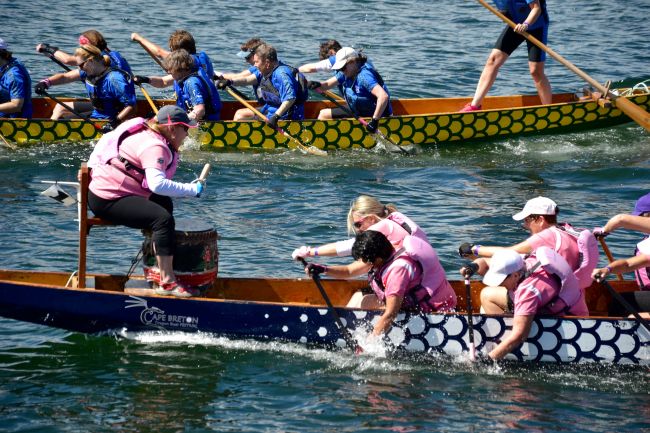 SYDNEY – Tasha MacQueen remembers what her sister and a good friend went through when they were both diagnosed with breast cancer.
"You just remember the hard times and the good people and what they went through," said the Glace Bay resident moments after participating in a special carnation ceremony Saturday in Sydney during the 9th Annual Cape Breton Dragon Boat Festival.
The ceremony allows family and friends to show their respect for loved ones who have survived or died from breast cancer. Hundreds of people lined the harbour on Saturday morning, throwing pale pink carnations into the water as dragon boats filled with cancer survivors sailed by. Most cried afterwards.
Although her loved ones survived the ordeal, MacQueen says others weren't so lucky and it's important to remember them, as well as the survivors.
"You just know how lucky you are. The ones who are gone, you remember their battle and all the good times."
While the carnation ceremony brought many to tears, the actual dragon boat races themselves brought plenty of cheers for the boatloads of cancer survivors who took to the water.
"We've got 16 teams, there's at least 20 people on every team – we've got 60 or 70 volunteers here today and we've got a couple hundred spectators so I'm sure we're over a thousand people," said event co-chair Cyril MacDonald. "We've got some people from away who have come down to race in the festival, to partake and just to watch."
MacDonald, 22, a tireless volunteer who also helps Special Olympics events, when he's not working with his recruitment job at Cape Breton University, said he first became interested in the races when he was in his teens.
"I started paddling when I was 16 and a lady and her husband, who went to my church and who were two amazing people, asked me to start the paddling. Her name was Mae MacLean and she was a breast cancer survivor. She asked me to get involved and I couldn't say no. Now I'm here I've made so many friends – every one of the survivors are just amazing – they keep me coming back.
"I'm here for them. I'm here for the hospital, I'm here to make sure that this nasty disease that is cancer is gone and I'm here to have a good day."
Over eight years, the event raised more than $380,000, which goes towards promoting healthy lifestyles while raising money for the Cape Breton Regional Hospital Foundation, the Cape Breastoners Dragon Boat Team and Special Olympics Cape Breton. Last year, the event went on hiatus to rebuild the local teams and MacDonald says that strategy seems to have worked. This year's event is one of the largest ever staged by local organizers. Saturday's event raised about $45,000 with all money going to the Cape Breton Regional Hospital Foundation. Of that amount, about $27,000 was raised by Boularderie's Mammo Warriors team alone.
The tournament's overall winning team was Local 682 Plumbras and Brafitters while the Protocase Protanics won the corporate division. The Mammo Warriors won the Community Division and the Bosom Buddies from Halifax won the Survivor Division.
"It's been a huge success," said MacDonald, adding that work has already begun on organizing next year's event, which will be its 10th anniversary.
"This just shows that dragon boating is alive and well in Cape Breton.