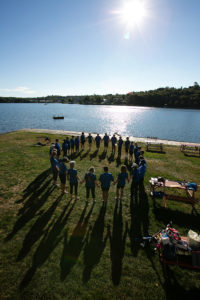 The Circle of Strength is a ritual before practic
es and races to help ground and focus the team.
The team members form a circle, holding hands and the leader begins:
Relax and take some deep breaths.
Feel your body and mind slow down and be still.
Think for a moment about how we all came to be here, about the race we've won and will keep on winning.
Remember the strength, courage and determination that it took for you to win that race and how that will always be more important than any dragon boat race.
Feel how it radiates around this circle.
Multiply that strength by 70 plus and feel the power whenever you feel anxious or afraid.
Remember to send some healing positive energy to all the buddies dealing with cancer yet again.
They receive it and it helps them greatly.
WE MUST KEEP MOVING FORWARD ALWAYS TOGETHER WITH ALL OF OUR STRENGTH.
Contributed by Lee MacDonald
March, 2007