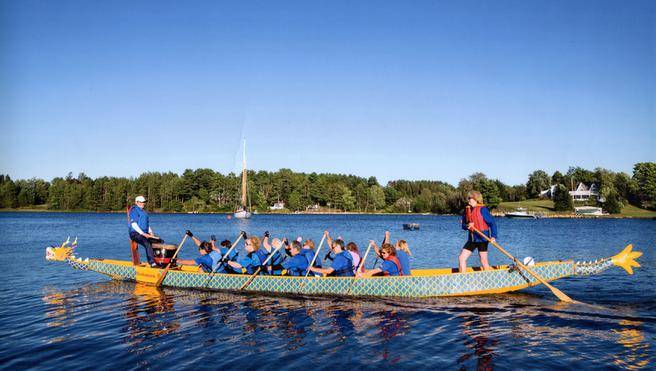 No strangers to adversity, the Bosom Buddies South Shore have taken a bit of bad news and turned it into a way to spread awareness about their organization.
Bosom Buddies is a breast cancer survivor support group made up of two dragon boat rowing teams — based Lake Banook in Dartmouth and Mader's Cove in Lunenburg County.
"There's something about moving a boat, that on your own would be way too heavy, but when supported by everyone else you can move it together," says South Shore team member and co-founder Sharon Driscoll. "It's empowering."
Despite this, the South Shore team lost their corporate sponsor last year. Driscoll says to maintain their boat costs about $3,000, which helps covers things like insurance and team expenses.
Since the team knew about the change in advance, they have been actively looking for a new sponsor, but in the meantime are selling raffle tickets to cover the upcoming season. The first prize is a quilt donated Chester's My Time Square quilting group, and the second prize is a whale watching trip. Driscoll says they are also using this opportunity to better educate the public on who the Bosom Buddies are, what they offer and how they differ from other support groups.
"Over the years, because we had a sponsor, we weren't really doing much in terms of publicly letting people know about us," she says. "We had brochures in doctor's offices and at the hospital. We just thought this (the fundraiser) would be a really good way to raise the profile of the team." For many of the group members, being part of the Bosom Buddies goes beyond just exercise and emotional support.
"I had never paddled in my life — I was not a water person," says Sandy Ford, who has been part of the South Shore team for about 10 years. "I got in that boat and something just happened. I'm not a religious person, but it was the most spiritual feeling."
Driscoll agrees, adding that there is an unspoken bond between team members.
"Many people are reluctant to go to support groups, because the last thing they want to do after having treatment is talk abut it," says Driscoll. "If you're in the boat, we all know your story, so we don't need to dwell on that. There is a kind of camaraderie — because you don't have explain what happened."
Bosom Buddies was developed from an idea Driscoll brought forth in 1997. While living in British Columbia she had been a member of Abreast in a Boat, another breast cancer survivor dragon boat team. After moving to Nova Scotia Driscoll connected with fellow cancer survivor, Margo Kleik, and the two decided to start a dragon boat team in the province. The Halifax team formed in 1998 and the South Shore team followed two years later. For more information on Bosom Buddies South Shore or to purchase a raffle ticket, contact Sandy Ford at 902-275-4609.
Tickets are $2 each for three for $5. The winner will be announced on July 31.